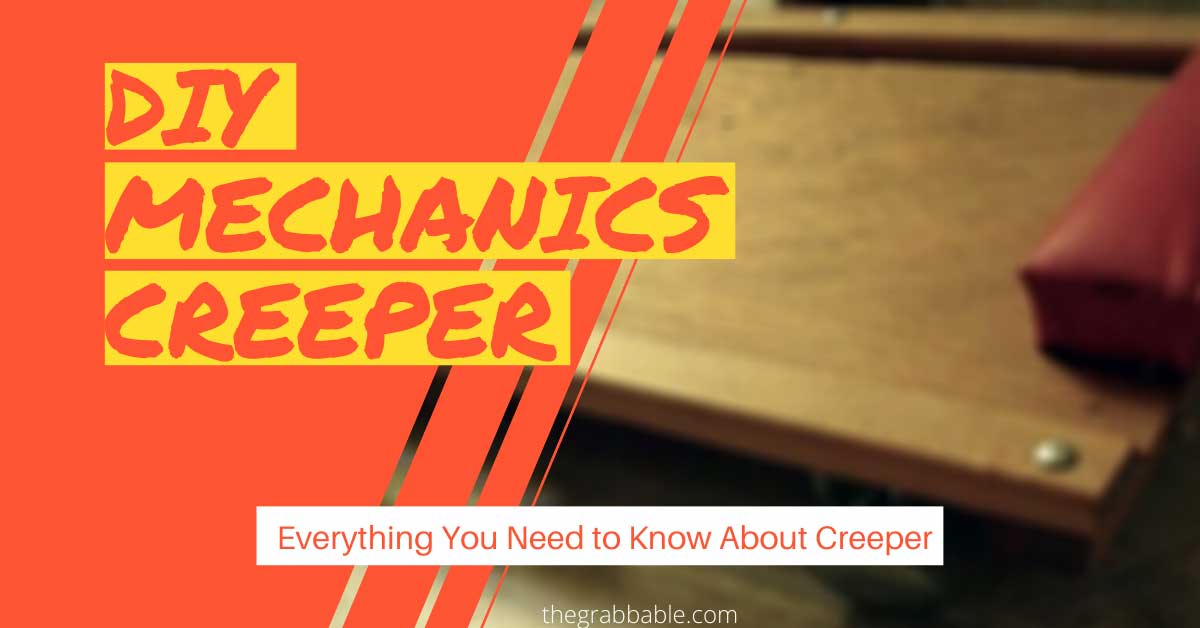 How to DIY Mechanics Creeper | Easy Practical Guide
Are you not satisfied with the regular mechanic's creeper? Do you want to build your own topside creeper? What a great idea!
It certainly would be much cheaper and self-customized just as you like. Actually, you can make your own DIY car creeper out of many things. It's actually simple, easy, and you can make it in a shorter amount of time. However, before I tell you the process of creeper DIY, you need to be aware of a few pieces of information to make it perfect as you need.
Let's get to the basics first!
What is a Creeper?
You may already have an idea what a car creeper is, just to brush over that a creeper is a garage tool. It helps to access under the car or any vehicle easily to make the job done in less time without hurting the back.
Most of the car creepers are low profile and come with a platform and wheels. All you need to do is lie down on the creeper, slide under the car for any repair, maintenance, or inspection job.
What is a DIY Creeper?
A DIY creeper is a self-made creeper out of used materials and accessories. Actually, it depends on the person what materials he wants to use for creating the creeper. Usually, most DIYers use plywood, skateboard, weight lifting bench pad, and so on.
You will be amazed to know that there are different types of DIY mechanic creeper. Three Types of mechanics creeper and here they are
1. DIY Mechanics Creeper
Mechanics creepers are actually for working comfortably under rough surfaces. Often garages are concrete bases, and sometimes the floors are uneven. It's actually difficult to slide under the car if you need to inspect or fix something. But, you can make a DIY mechanics creeper with a steel frame and a few caster wheels. For comfort, you can add cushion or pads. But, make sure it's low profile so that you can easily slide in and work in narrow spaces.
2. DIY Creeper Seat
A creeper seat is also known as a mechanic seat. And you can also make it at home for your own personalized DIY creeper seat. A creeper seat is for fixing something sitting in a comfortable position. It comes with a seat and swivels caster wheels so that you can easily move if you need to. You can make a DIY creeper seat using the wood, plastic, unused seat from old vehicles or char and attach caster wheels underneath.
3. DIY Topside Creeper
A topside creeper comes with a ladder and a platform to inspect the car from the top and bottom. You can also make your own DIY topside creeper using an old ladder, or wood. No matter what material you use, make sure it's sturdy, durable, and has the ability to withstand heavyweight.
So, for the platform of your homemade topside creeper, you can use a plywood board and cushion with blankets for comfort. Then, attach the ladder with strong cross support with the platform. The most important factor you need to pay attention to is balance and stability while constructing the topside creeper.
How to DIY Mechanics Creeper?
You can make your customized DIY mechanics creeper with the available materials you have. Here, I will give you some ideas about how I made my one. I also share some additional tips so that you can come up with a better and stronger version of your mechanic's creeper.
What you Will Need: 
For the base: Use plywood, wooden materials, or steel frame.
For cushioning: Use foam, blanket, or cotton.
For mobility: Use caster wheels.
For manufacturing: Medium-size screws, PVA glue, saw blade, drill machine, and a measuring tape.
Let's make it:
Step 1: Get your Measurement Right
When you are ready with all the equipment and elements, its time to get to work. First, start with measuring. Measure the width of the base you are going to use as a platform. If you are using a wooden material or plywood, make sure the width is comfortable and wide enough to fit your body.
It should be a few inches wider than your shoulder on both sides. Also, measure the height that you seem compatible and convenient for you. The creeper should be comfortable for your head, back, and hip. So, you can keep it up to such a length when you get the support and move the creeper with your feet.
Step 2: Making the Base and Creeper
Now that the base is ready with the right height and width, it's time to make a strong base and creeper at a time. To do that, you need to make a frame not only to support the creeper but also to cushion it. Get four pieces of wood to place underneath the four sides of the base.
For the long two sides, measure and cut two pieces of wood using a saw blade. Then, first, place them on the two sides and make sure they are properly aligned with the base. Apply some PVA glue and place the wood pieces and press with something heavy to keep it in place.
Now, secure the wood pieces with the base by drilling screws. Screw the pieces tight in every 10 centimeters. Then, follow the same process for the other two sections. Measure the bottom and top of the base, cut two wood pieces accordingly. Again secure them with PVA glue and drilling screws properly.
Step 3: Adding the Wheels 
I used around 4 wheels in total for four sides of my creeper. To do that, you need 2 pieces of wood wider than the base width. Then attach on top of the head and bottom section of the frame. Again, secure the pieces with PVA glue and screws.
Now, add the wheels under the two pieces of wood you have just attached.
Step 4: Cushioning 
For cushioning, you can use a piece of comfortable foam. Measure the place where you will place the foam and cut foam accordingly. Place it inside the frame, and your creeper is ready to use.
Tips: 
Make sure the screws reach up to a point where both the base and frame are attached. It shouldn't be too long; otherwise, it will pierce through the other side.
To make the frame stronger, you can add additional wood for the vertical sections at a few inches' distances from the frame.
When you are adding cushion, be mindful that it's not too thick or too thin. Get an even piece of foam that will sit properly inside the creeper.
You can also color your creeper with spray paint to give it a nice look.
Final Thought
This is the simplest process of How to DIY mechanics creeper at home. Easy, isn't it? When are you making your own DIY creeper?
If you don't have the time to make your own customized creeper, then you can simply choose from our best mechanics creeper list and can save your precious time.
Don't forget to share your idea with us.
Stay tuned to know more about automotive and gears at The Grabbable.