2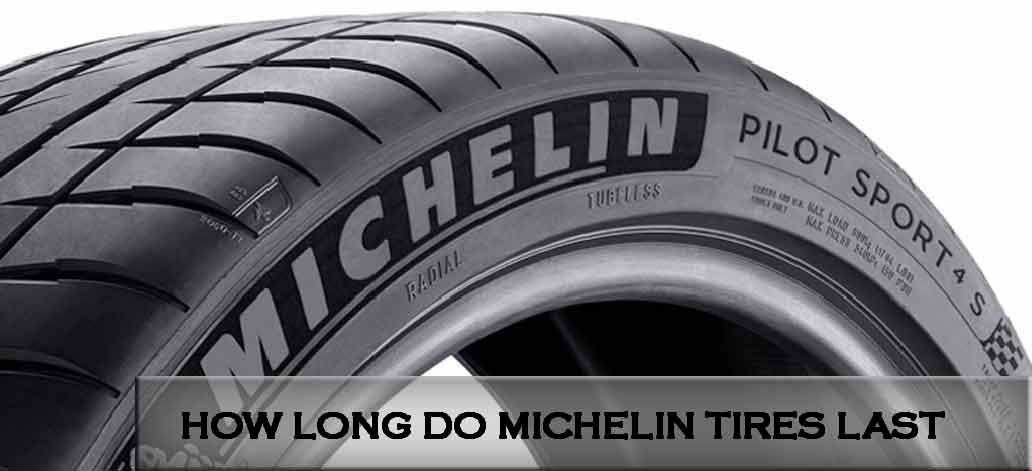 How Long Do Michelin Tires Last?
A lot of people out there who ask a basic question that how long do Michelin tires last?
Well, the answer is not that simple. There is no exact way to tell you how long the Michelin tires are going to last. There are a lot of factors out there on which the lasting time depends.
The design of the tire as well as the car, the habit of the driver, the conditions of the road, the climate, and the lastly but most importantly the care that is put into. However, you can expect a lifespan for sure. And if you take care properly of the tires then it will last longer.
In this article, I am going to tell you about the life expectancy of a tire, what can damage a tire, how to inspect a tire and finally how you can be sure that you need to change your tire. Hope, this will help you a lot. Read the article till the end.
Michelin Tires Last Depending on These Factors
Here are a few basic assumptions for you.
# Keep 5 Years in Your Mind
In general, keep your mind that your tire is going to last 5 years. As I said, it depends, this is just a general theory. After using 5 years, you should inspect your tire every year properly by a professional.
# 10 Years is Highest
The Michelin suggests that you should replace your tire after 10 years of use even if it looks good. One more thing I want to mention here just to inform you that these 10 years will be counted from the manufacture date.
Though five years is the basic, you can enhance the longevity of your tire by maintaining doing regular tire rotations, proper air pressure, and finally vehicle maintenance. So, now you can understand that the Michelin tires can last for 10 years, depending on the usage.

# What Damages The Tire?
When it comes to maintenance of the Michelin tire, one question comes to mind. What damages the tire? Well, there are a lot of things that can damage the tires. Here are the things that can damage the tire.
# Physical Factors
Wear and damage are the main physical factors along with the age of the tires. If you take good care, then your Michelin tires can last up to 10 years easily.
# Road Condition
As previously mentioned, road condition has a great effect on tire lasting. A bad road that is in bad condition greatly hamper your tire. Potholes, obstacles, sharp objects, curbs, speed bumps, etc. can damage your tire.
# Driving Habits
This is another thing that damages your tire. Over speeding, driving on ruinous roads, quick start, as well as emergency braking, are the habits that can damage your tire. In addition, failing to notice any changes in handling, vibration or noise or failing to consult an expert while something changes can damage your tire for sure.
If you ask me how long do Michelin tires last? then I will tell you that, the more you drift your tires the less you can extend the durability limit.
# Climate
Extreme temperatures like heavy rain, snow or ice and some chemicals including oil, grease or other chemicals are some good factors that can hamper your tire. Moreover, strong sunlight, as well as ozone, has a bad effect on the tire as well.
# Improper Use
If you use your tire improperly, that can diminish the lifespan of your tire. Some example of improper uses are: Using summer/all-season tires on ice and snow, using mixed types tire, using the rim and the wheel sizes that are not properly compatible, using the tires on the damaged wheels, fitting the tires that have not load index or speed capability higher than or at least equal to those originally marked by the manufacturer of the vehicle, using a different size spare tire at 50 mph excess speeds, re-inflate the tire which is seriously under-inflated or been run flat.
# Ignore The Basic Maintenance of Tire
There are some people who generally ignore the basic maintenance of the tire. This basic maintenance includes checking air pressure regularly, not regularly checking for damage or wear, rotation and alignment, ignoring to consult a professional for a tire inspection, not balancing the tires after installing, improper storage of tire, using of non-approved sealants.

# Is Your Tire Worn Out?
You need to examine your tire if the tire is worn out or not. Shallow tread, Uneven tread wear, damaged areas, any troublemakers such as nails, rocks, etc. and the damaged valve caps are the things you should look for. If you find anything, immediately consult a professional.
In addition, you can feel the problem while driving the car. A rough drive generally indicates that the tire is excessive wear or damage. Also, if you find any vibration or other kinds of disturbance during the driving then drive slowly and park your car in a safe place and inspect the tire.
If you find out the damages, replace the tire and if you cannot find the problem but still the car vibrates then you should go to the professionals.
# How To Inspect Your Tire?
In every month, you should inspect your tire. This will always keep your mind in peace. So how do you inspect the tire? Simple, follow the things:
In every month, before going on any trip, you should check the tire pressure. This will save you from many unwanted situations.
Moreover, check the tread wear. You can do it in three ways. You can do it by a tread depth gauge, by the penny test, or by the tread wear indicators. However, I recommend the last once since this one is the easiest way.
If you find anything wrong, no matter it is visible or not, you should consult a professional. You know, only a tire professional can tell you that your tire needs replacement or not. Also, only he/she can tell you that the tire needs to be repaired or not.
Conclusion
So, as you can see, there is no way to find out the longevity of the tire. The Michelin tires can last one year or ten years. No one can guaranty it. However, if you use it properly then the chances are high that you will be able to use the tire for a long time.
I hope this article helps you to know how can you inspect your tire and take care of them. Please let me know if i can be of any further help.
Stay tuned to know more about automotive and gears at thegrabbable.com. Ride safe!