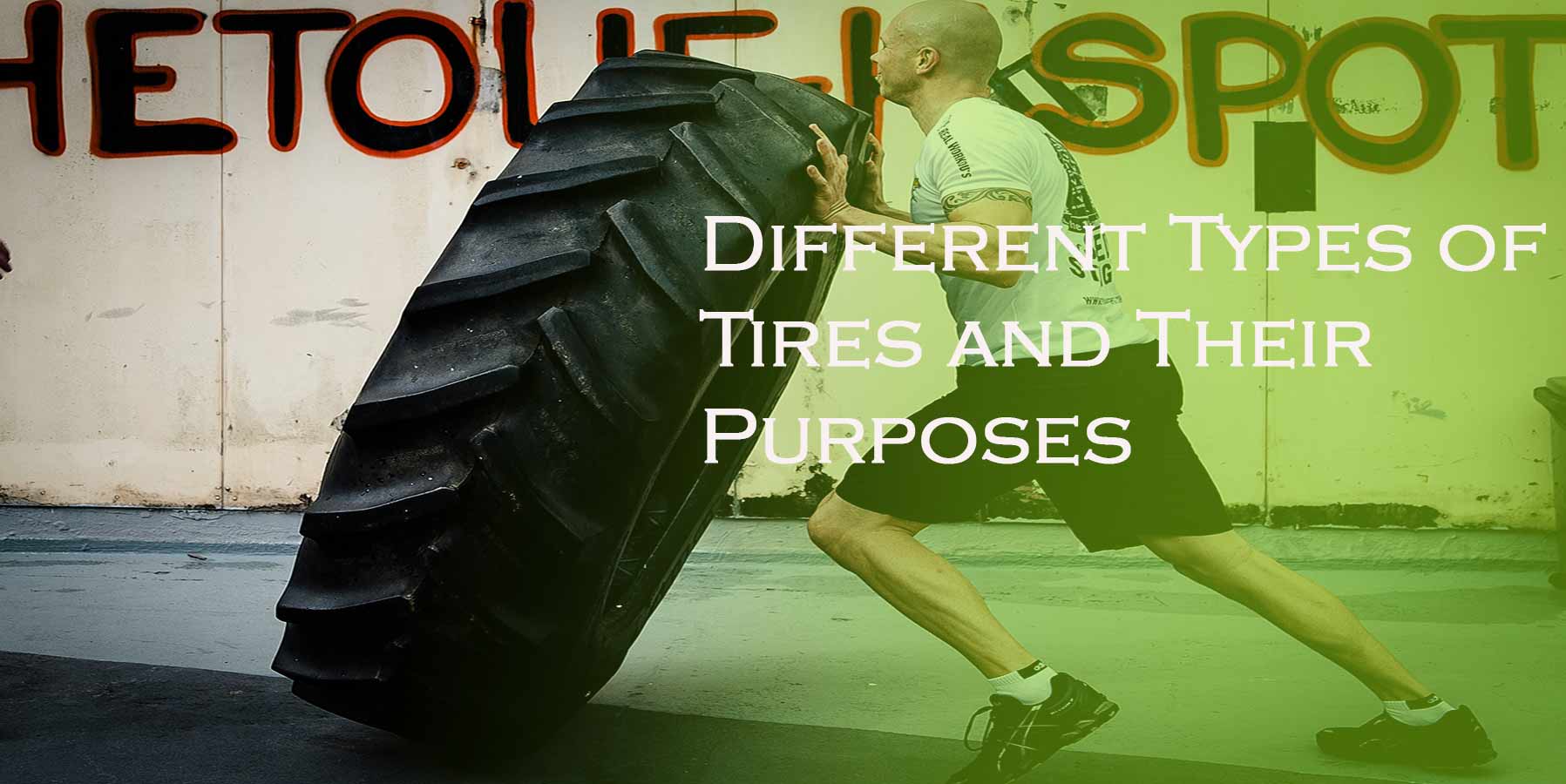 Different Types of Tires And Their Purpose
Have you ever noticed that there are different types of tires? And all of the tires purposes are different? Among all of them, which one should you use?
Maybe you have an amazing sports car and you need a tire that enables you a faster drive. Then which one should be perfect for you? Or you have a heavy-duty pickup truck and you need tires that are capable of taking enough load and offer you a great fraction. Then which one should you pick up?
Different Types of Tires And Their Purpose
---
Do you know about different types of tires and their purpose?
If you want to know all of this then you have to read the entire article with a good patient. In this article, I am going to discuss almost all of the tires tire and their purposes so that you can easily pick up your one. So let's get started.
Why Different Types of Tires Matter?
Actually, when the tires are made, they are made for specific cars. A small van tire will not be fitted in a large truck for sure, right?
Some of the tires are made for a special occasion. The reason is that the weather does not remain the same all the years, as a result, a simple tire will not perform well in snow or extreme weather. Also, if you want high speed and use a large heavy tire, that will not deliver you a good service. These are the reasons along with other many reasons why different types of tires matter.
Now check out the tire types below and find out which one best suits you.
Passenger Vehicles: SUV, Sedan, And Minivan
The tires that are designed to be used for passengers transport vehicles like SUV's, sedans, and minivans are engineered to provide a quite as well as smooth ride, longer-lasting tread life, and all-season reliable traction.
All-Season Tires
All-season tires are designed to offer good handling and performance during all the seasons. It has symmetrical tread pattern as well as circumferential grooves so that it can give a better grip in both wet and snowy condition.
Don't be confused with the term 'all-season tires'. These tires are designed to be used during all the seasons, however, you need to understand that the four seasons of the USA and four seasons of Brazil are not the same. That is why in extreme weather, these all-season tires cannot perform well. Then you need specialized tires.
Touring Tire
Touring tires are dissented to provide all-season traction, responsive handling, and more comfort. They have a higher speed ration relative to the other touring tires.
Performance sedan and sports vehicles generally need increased controlling from the tires. Also, they need good traction in different conditions. To these vehicles, performance is more important than comfort. That is why some of the sedan and sports car owners often modify their cars.
Performance Tires
Performance tire features soft rubber as well as strong sidewall that help the car to get better traction and perform better. If you never participate in a race and drive your car as fast as people drive in the race, then you can at least enjoy driving like those people with this tire. Because of its better grip, you can drive fast and whenever you want a quick turn, this tire helps you to do so. However, this tire lasts shorter than the traditional tires because of its soft rubber.
Summer Tires
As the name implies, these summer tires are designed to perform in dry and rainy weather. However, these are not suitable for winter condition. They provide great control as well as a grip during the wet and dry condition. Additionally, these tires are good for higher speed during summer.
One thing you need to know that this summer tire cannot provide enough good grip in extremely rainy weather. So if you live in dry weather you can go for this one.
Track and Competition
You can easily assume what these tires are for. Yes, they are not for general use, rather they are for track and competition. These tires are designed for constant contact with the road in dry weather. They have sidewall reinforcement and high tech body. These are for extreme performance and for expert competitors only.
SUV and TRUCK Tires
There are some different needs where general tires cannot deliver proper handling. In these cases, SUV and TRUCK tires can meet your needs.
Highway Tires
Highway tires have similar tread pattern as all-season tires. However, these tires are designed for handling the heavy load of SUV or truck. The good thing about these tires is that these are suitable for pavement. Most of the highway tires have durable tread pattern and compounds that prevent unwanted uneven wear. And thus they offer long-lasting.
All Terrain Tires
You have understood, I hope, after seeing the name of the tires that what the uses of the tire are. These tires have aggressive tread pattern as well as bigger tread blocks and voids that make the tire suitable for off track. They are designed in such a way that they can handle sand, gravel, and light mud as well. And the best part is that you can have the same comfort and control as you get in track.
An interesting fact is, many people use these tires just because these provide an aggressive look to their cars. In addition, here is a list of best all-terrain tires in case you might be interested to purchase one.
Mud Terrain Tires
This mud-terrain tire features a very big tread block along with extremely aggressive tread pattern and voids. These are the features that enable the tires to get better traction in mud or sand or another soft terrain. Additionally, they feature aggressive sidewall that makes the tire look more rugged along with better traction.
The best part is, its sidewall is reinforced when driving off-track to protect the tire from tears, abrasions, and punctures. However, unlike the all-terrain tires, these tires cannot provide good performance on the track. Also, they make more noise. That is why it is best for only off-track adventure.
All-Purpose/ Trail
Maybe you are thinking that these all-purpose tires are suitable for all trail and can be used for all purposes like off-track adventures. But let me tell you that, you are thinking wrong.
These tires are kind of similar to the normal track tire, just slightly more rugged. And it features fewer types than the traditional highway tires.  This offer good service on track, however, little bit off-tracing can be done with these tires.
Ribbed Tires
Ribbed tires should be called highway tires since they are designed for highway use. They offer long-lasting performance and they feature solid rib tread design that improves the stability, no matter it is heavily loaded or not. Additionally, these enhance the traction in wet weather which is a great thing for users. That is why a lot of ribbed tires are seen people using.
Sports Truck
These sport truck tires are specially designed for crossover, pickup, and other sport utility vehicles. These low profile, larger rim, and wide tires offer great performance as well as look when replaced to original tires. These feature the wide tread that enables the tire to offer good traction in light snow condition. However, not suitable for snow or winter.
Specialty Tires
It is possible that you need a special tire for any reason. For example. If it is snowing, then you will be needed a special tire which will deliver you great traction and control in that weather. Or you need a simple tire as a replacement of your original tire for a few days. In these cases, you need specialty tires.
Winter Tires and Snow Tires
Before writing about the winter tire, let me give you an interesting fact. In some countries, using the winter tires during the cold season is mandatory.
These winter tires offer you the best traction in snow, winter or any extreme conditions like that below 7 degree Celsius. These are the tires that come with a great variety of uses as well as a variety of vehicles. Basically, there are two types of winter tire. Studded and non-studded.
The winter tire has deep circumferential grooves as well as heavy sniping that expel slush and snow from the patch of the contact. In addition, the winter tire features small pins or studs that make the tire enable to deliver better traction in icy surface.
The studded tire is great for extremely harsh weather. They provide great traction that none other tires can. However, these studded tires make too much noise during driving. Additionally, these tires are prohibited to use in some states. You are allowed only if the weather is too harsh that no other tires can be used.  But most of the all-season tires can give you a great riding experience in snow.
On the other hand, non-studded tires are same as studded tires. The only difference is that non-studded winter tires have no studs or pins. Despite that, these tires offer great traction in icy weather. Winter tires are also known as snow tires. Here is my another article about when to put on snow/winter tires.
All-Weather Tires
These all-weather tires are the newcomer in the tire industry. These tires are made to fill up the gap between the all-season tires and winter tires. These tires deliver you a good grip when the temperature is below 7 degree Celsius, however, unlike the winter tires, you do not need to change the tires when the winter is gone. You can still use the same tire all over the year.
Despite its good grip during the winter at below 7 degree Celsius temperature, it is not as suitable as winter tire in extremely harsh condition. That is why it is recommended that you should take the winter tires if you live in a place where the weather can be harsh.
Temporary Spares
As the name implies, these tires are for temporary use only. Basically, when you replace your tire for a short period of time, these tires do the job of regular tires. However, these tires are suitable for 50 km only at the speed of 50kmph. moreover, these tires need higher pressure. Basically, these tires are not for common use, only for emergency use.
Trailer
Trailer tire comes with generally two construction. The first one is bias-ply and the second one is radial ply. The bias-ply tires are designed to carry heavy weight. However, these bias ply tires tend to more irregular wear and a little bit rougher ride than the radial-ply.
On the other hand, radial ply offers a smooth drive that makes it a better choice over the bias ply tires for highway use.
UTV and ATV Tires
ATV and UTV tires have many types actually. They are available in sand, all-terrain, trail riding, mud terrain, and racing types. They feature large voids as well as large individual tread that makes the tire offer you excellent traction is gravel, sand, mud, and rocks.
Simply, the more the aggressive tread pattern is, the more the aggressive usage.
Lawn and Garden
These tires are designed for offering better grip in different types of terrain.
Basically, as the name implies, these tires are for garden use only. Not for any common use or for other car use.
Conclusion
A common challenge everyone faces during buying the tire is selecting the perfect tire that suits best his car. The buying will be easy if anyone keeps in mind his car type. As you can see, different types of tires are made for different types of cars. Once you can decide the category of your car, you can easily purchase the perfect tires for your car.
I hope, you have understood the differences between the all types of tires and also the differences between all-season and all-terrain, winter tire vs. all-season tire, snow tire vs. regular tire and others.
With the perfect tire, you will get better performance and can enjoy your ride very well. And with the enjoyment, you will get better safety, you know, safety is always first. So choose your tire today and if this article helps you choose the perfect one then thank me.  Please let me know if you need any clarification.
Stay tuned to know more about automotive and gears at thegrabbable.com. Ride Safe!