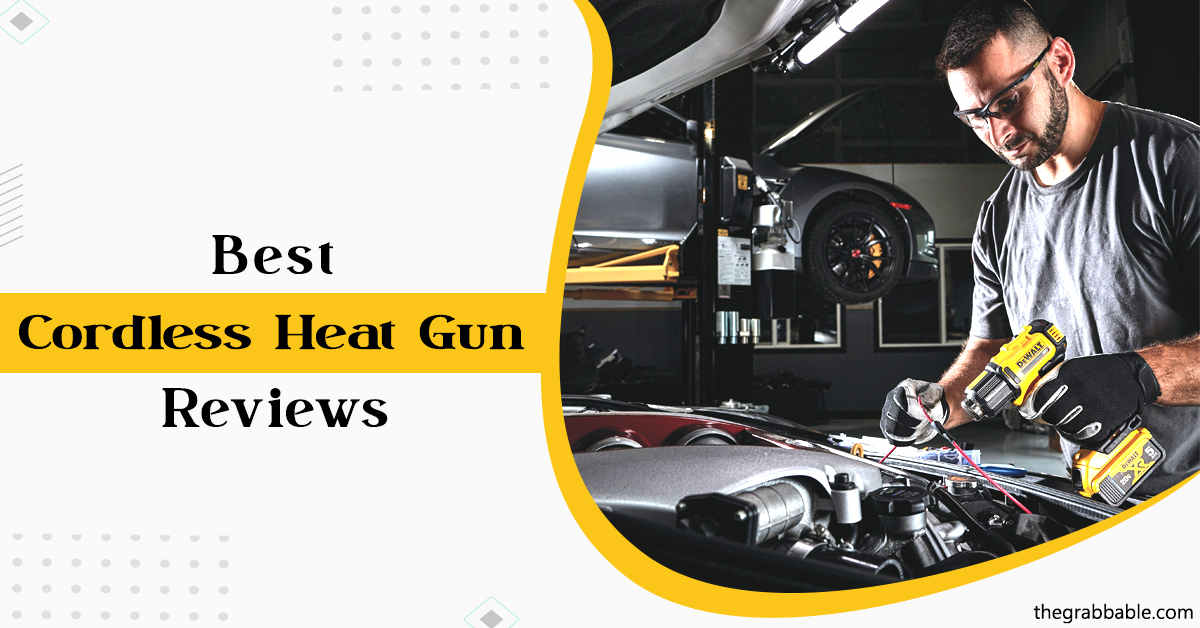 The 7 Best Cordless Battery Powered Heat Guns to Buy in 2021 | Reviews
Battery powered heat guns make any DIY or outdoor project convenient and easy to deal with, but finding the best cordless heat guns in the market is a tough challenge. Moreover, if you are unaware of what makes a cordless heatgun durable, user-friendly, and supportive for your projects, then your purchasing decision can go wrong.
On one side, you need to be aware of the brand value whereas on the other side you also need to focus on the performance and key features that will be suitable for your project. Thus, to make the best purchasing decision, it takes hours of studies which is not time convenient for all users.
Considering your concern and respecting your value of time, here I have chosen to review the 7 best cordless heat guns that are popular in the market. Additionally, I will also discuss how it's better than a corded heat gun, how to use it, and must-have features to guide you towards the good heat gun that you need.
Are you in a hurry? and don't have the time to read all the products description? no worries. You can pick your desired best cordless heat gun from the following table. We've made it look short and easier for your convenience.
The 7 Best Cordless Heat Gun Reviews
There are plenty of battery powered heat guns in the market. Not all of them have necessary features or high performance. Thus, it's important to consider the rechargeable heat guns that are eligible to do the job efficiently. Here, I have chosen the 7 most popular and highly recommended battery operated heat guns from renowned brands to review.
Though they are popularly known for their advanced features, performance, and build quality, I will scrutinize their essential features to present their strengths and limitations. Hence, through this review, you can easily understand which device will be best suited for your project and make an educated purchasing decision.
For the first product of this review, I am going to discuss the popular dewalt cordless heat gun. This gun comes with a 20V battery which can deliver high temperature and runs for a long time. Additionally, this device is suitable to use for multiple purposes.
One of the outstanding features of this device is the temperature it can produce. Like most top-quality heat guns, it can raise the temperature up to 990 degrees Fahrenheit which allows any job to be done quickly and efficiently. Additionally, the 5Ah battery maximizes the operating time so that you can comfortably run the device for around 42 minutes with one charge.
Nevertheless, the design and size of the device are compact which you can easily carry and use in hard-to-reach areas. Then, to help you work in dark areas, there is also a LED light. For the safety of the user and the project, there is also a lock-off trigger that you can use to operate the device manually. Overall, the device comes with all the features you can use for a shrinking pipe to remove paint. So, you will get what you pay for.
What we liked
What we did not like
The Ryobi cordless heat gun is one of the popularly known wireless heat guns due to its brand value. Besides, it also assures essential features that you need for small repairing jobs. The battery capacity and temperature make various jobs quick to complete.
To begin with, the device comes with an 18-Volt battery. It only takes 10 seconds to heat up so the device won't take long to use for an urgent repairing job. Not only that, even if it runs out of charge, you can easily replace the battery with any Ryobi One+ series.
Additionally, the highest temperature of the device is 875 degrees Fahrenheit. This temperature is enough for diverse types of jobs that need a heat gun. There is also a deflector nozzle that makes the tube shrinking job fast and smooth and a concentrator nozzle for precise heat application.
In short, this battery powered heat gun Ryobi has manufactured has all the features you need for a variety of shrinking and drying jobs.
What we liked
What we did not like
For the third product, I have chosen the Milwaukee cordless heat gun. The feature that makes it widely acceptable is the mechanism of redlink™ intelligence which makes this device ready to use in 6 seconds. This is a very unique feature that most heat guns don't have.
Additionally, the temperature management system assures you can use the device for a long time. Also, for your safety, the package includes a long guarded nozzle that will protect the user and the device from unprotected surfaces. As you purchase the device, you don't need to pay for any additional accessories.
Because, the heat gun comes with a battery, charger, hook, and concentrator nozzle. There is also an organizer where you can comfortably store the device and parts. Though this Milwaukee heat gun cordless device belongs to an expensive category, this is one of the most user-friendly battery heat guns from this brand.
What we liked
What we did not like
If you are looking for a cordless heat gun that will be high-performing like a corded one, then you may check out this lithium-ion battery heat gun from Ridgid. This amazing gun can deliver a maximum temperature of up to 1000°F.
This specific feature makes it a tough competitor of a professional heat gun. Such a high power device must come with safety. Thus, the device features a foldable kickstand. This kickstand will help you to rest the device in a stable position during work and cooling down the device after use.
Then, you can also adjust the temperature according to the type of job you need to do. Besides, the device has a Hex grip with micro-texture that assures you to hold onto the device comfortably and with safety. There is also a cool-down mode that will help you quickly store the device after completing the job.
What we liked
What we did not like
Are you searching for a versatile heat gun to use anywhere? Here it is. The cordless heat gun from Prulde is suitable to work in DIY to professional projects and in any indoor and outdoor environment. The lithium-ion battery makes this device super-efficient to work for crafting, shrinking, warping, repairing, thawing pipes, and so on.
The 20V battery not only assures enhanced run time but also delivers 1022 degrees Fahrenheit for versatile repairing jobs. Also, the device takes less time to recharge as it comes with a rapid optimum charger. There is also a lock-off design to use it hands-free or manual operation.
Even though the device is designed for industrial use, you can still comfortably use it without fatigue. Because the device is designed with an ergonomic soft-grip handle. Nevertheless, the device comes with 4 types of nozzles, a charger, and a battery, so you won't have to buy any additional accessories.
What we liked
What we did not like
If you need a heat gun for occasional jobs, here is a budget-friendly option for you. Though the price of the device is within an affordable range, the 18V battery makes it suitable for shrinking, welding, soldering pipes, and so on. It also doesn't lack other features that any good quality heat gun comes with.
To talk about its operation time, the machine has a maximum temperature capacity of up to 932°F and a speed of 1.06 CFM which makes the device ready to use within 10 seconds. Then, with the 4Ah battery, you can continuously use it for 16 minutes for any quick fix you need to do. Also, for added safety, there is a dual-action trigger.
So, with the two-step safety trigger, you restrict yourself from turning on the device accidentally. There is also a hanging loop to easily store it on the wall or workbench. Finally, as you purchase the package, you will also get a lithium-ion battery and a reflector, concentrator, and air spreader nozzle for versatile jobs.
What we liked
What we did not like
The final cordless heat gun is from Berkling Tools. It's another best budget heat gun for you to compare. What sets this device apart is the unique design and butane power. It's a 3 in 1 cordless gun you can use for DIY projects, automotive repairing, electronic tasks, computer motherboard repairing, and home use.
The device is designed like a mini torch with a self ignite mechanism. This design makes it extremely lightweight and portable so you can carry it easily anywhere. Most importantly, the device can run up to 90 minutes with one charge.
Also, the maximum output of the gun is 125W and the device is gas operated, so you don't need to frequently charge it. Additionally, the self ignites mechanism helps you to easily start and quickly heat up. You can also adjust the flame temperature by controlling the butane gas output using the slider.
What we liked
What we did not like
Corded Heat Guns vs Cordless Heat Guns
Though the purpose of using a heat gun is the same, the same device being corded and cordless makes them suitable for versatile jobs. Both of them have their benefits and drawbacks. Thus, it's important to know the differences so that you can understand whether you need corded or battery operated heat guns.
Cordless heat guns
Cordless heat guns are handy, portable, and easy to use anywhere. You don't need to look for an available electric connection and worry about cord length. If you are working on outdoor projects, then it's one of the essential tools you need.
Though portable heat guns tend to have weak power and airflow compared to corded ones, they are a helping hand during any emergency. However, if you need a more powerful one, then the price will also get higher. Nevertheless, they are super lightweight and small in size, so it's easy to carry and use for small spaces without getting your hands numb.
Considering all the features and advantages, a cordless heat gun is time-saving and quick to use for outside or DIY needs. Thus, it's a popular choice for DIY users and professionals that work on outdoor projects. You can use it anywhere regardless of having a power outlet nearby.
Corded heat guns
Corded heat guns don't come with a battery. Compared to the cordless heat guns, they are quite cheap. So you don't need to worry about its run time or the necessity of recharging it. All you need is an electric power source.
Since the corded heat guns have more power and airflow, they make any job complete quickly and efficiently. However, using a corded gun limit your access to use it anywhere else. Every time you use it, you need to have a continuous electric connection, proper airflow, a long cord, and some other features.
Also, corded heat guns are big, thus heavyweight. Using the device for a long time can cause fatigue. If you are a professional user and work on large projects, then corded heat guns would be ideal for your project.
How to Choose the Best Cordless Heat Gun?
Whether you purchase a small cordless heat gun or an automotive heat gun, if you aim to go for a good quality cordless one, you need to pay attention to certain features. These features will help you understand how you want the heat gun to be. Thus, you can also set a fair budget to make the best investment of your money on the right tool.
Power
The battery is the most important part of a cordless heat gun. The capacity of the battery will decide the power and duration of the device. If the device has a high wattage capacity, you will get a higher temperature and airflow.
If you need the gun for occasional use, then you can go for a mini cordless heat gun with average battery power. However, if your project requires frequent use, then a portable heat gun cordless with lithium-ion 5AH or 6AH will have a run time of up to 30 minutes.
Heating time
Usually, rechargeable heat guns get quickly heated up. Most good quality guns take only 10 seconds or so to warm up which is enough for small work. But, for major tasks, the device needs to have sufficient heat which may take a while. And, there are heat guns that have adjustable heat settings.
Temperature control
For small projects or occasional use, the heat gun with fixed temperature and fan speed is convenient and safe to use. However, if you need the device to use more than paint stripping or shrinking plastic, then it would be better if the device has a temperature control setting.
Safety
Whether you are dealing with corded or battery heat guns, safety is a must feature the device need to have. In terms of a cordless heat gun, it deals with high heat and battery. Both of them have a high-risk factor of causing accidents and damage to the user as well as the projects.
Thus, heat guns must come with overload protection. Such features automatically turn off the device when the temperature is too high to overheat the device. Thus, you must look for thermal cut-out or automatic shut-off as a safety measure for any cordless heat gun.
Ergonomic design
Cordless heat guns are quite handy and lightweight. Thus, they are easy to use and don't cause fatigue. However, having the device designed in an ergonomic style is also important. When you are checking a heat gun, pay attention to its weight, grip, size, ease of use, and other user-friendly features.
Durability
Since the heat gun will be hand-operated, it needs to have a durable construction. Thus, check whether your chosen heat gun has a sturdy frame considering the power capacity. Every part should be made with durable material.
Budget
Compared to corded heat guns, cordless guns are expensive. Thus, you need to be careful about setting the budget how much it should cost to find the best budget heat gun. Considering the features and performance, a top-quality heat gun can cost $70 - $200.
FAQ
Q) Why buy cordless heat guns?
Answer: Cordless heat guns have some significant benefits that make them desirable for many users. One of the prior reasons to buy a cordless heat gun is its convenience. This gun is lightweight, handy, and easily portable. Thus, you can carry them anywhere. Also, when you use it, you don't need to look for power output to plug it in.
Then, another reason is, it's very much suitable for the small fixing job. If you are not a professional user and need a heat gun for occasional or DIY projects, then a cordless heat gun would be appropriate for you.
Q) How does a heat gun work?
Answer: The working mechanism of a heat gun is similar to a hairdryer. It just gets six times hotter than a dryer. As you turn on the device, the fans produce cool air which quickly gets hot while crossing a heating component through a dedicated chamber. This hot air is then directed towards the nozzle which you set on the target spot.
Q) How hot does a cordless heat gun get?
Answer: The temperature of a cordless hot air heat gun depends on the wattage capacity. However, a good quality wireless heat gun can reach its temperature up to 990 degrees Fahrenheit.
Q) Is Dewalt 20v cordless heat gun a good heat gun?
Answer: Certainly. DEWALT DCE530P1 20v is one of the best battery-operated heat guns in the present market. It's a cordless heat gun that delivers up to 990 degrees Fahrenheit temperature. It's an ideal device to use in tight spaces. You can use it for 42 minutes without recharging.
Q) Cordless heat gun or corded heat gun - which is better?
Answer: It depends on the users and their project types. Both corded and cordless heat gun has their strengths and drawbacks. However, a cordless heat gun is safe, easy to use, suitable for confined spaces, and does not require a power output for operation. Whereas, a corded heat gun has high temperatures, works fast, and is suitable for large repairing jobs.
Final Verdict
To sum up, cordless heat guns have advantages and some limitations. However, what it certainly does is enhance and support your working sphere. You can not only easily carry it anywhere but also use it in areas where you normally can't do with a corded heat gun.
There is also a wide range of cordless heat guns available that come in versatile features and price range. All you need to do is choose the one considering the features and how frequently you are going to use the device.
So, before you invest your money in the best-suited heat gun for your project, don't forget to check out the key features to evaluate its quality.
Please do not hesitate to contact me if you need further information.
Stay tuned to know more about automotive tools and gears at The Grabbable.